Trend Micro Email Security

Stop more attacks with a cross-generational blend of threat techniques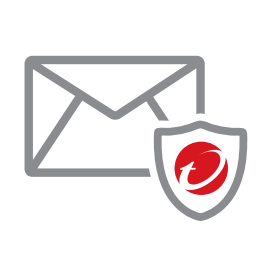 Email Security
#email-security
Get a Quote!
Stop more phishing, ransomware, and fraud attacks by using a cross-generational blend of threat techniques
Overview
Email is mission critical, but email-based threats, including ransomware and business email compromise (BEC), are growing exponentially and it's difficult to keep up. Even your savviest employees can mistakenly click on a malicious link and expose your enterprise to cybercrime.
Trend Micro Email Security stops more phishing, ransomware, and BEC attacks. Powered by XGen security, our solution uses an optimum blend of cross-generational threat techniques, like machine learning, sandbox analysis, data loss prevention (DLP), and other methods to stop all types of email threats. This solution minimizes management overhead and integrates with other Trend Micro security layers to share threat intelligence and provide central visibility of threats across your organization. Email Security protects Microsoft Exchange, Microsoft Office 365, Gmail, and other hosted and on-premises email solutions.
What Trend Micro Email Security Can Do For You:
Stops phishing and spam
Examines the authenticity and reputation of the email sender to screen out malicious senders.
Analyzes email content using a variety of techniques to filter out spam and phishing.
Protects against malicious URLs at delivery and at time-of-click (rewrites and analyzes URLs at the time of click and blocks them if malicious).
Detects and blocks advanced threats
Detects and blocks ransomware and other types of zero-day malware using pre-execution machine learning, macro analysis, exploit detection, and dynamic sandbox analysis for files and URLs.
Pre-execution machine learning filters unknown malware before sandbox analysis, enhancing efficiency and efficacy of advanced threat protection.
Shares threat information with other security layers to guard against persistent and targeted attacks.
Protects against BEC
Examines email behavior (an unsecure email provider, forged domain, or a reply to a free email service), intention (financial implication, urgency, or a call to action), and authorship (writing style).
Allows you to have the flexibility to define your organization's high-profile users list for BEC protection.
Gives you peace of mind
24/7 technical support.
All emails from customers in Europe, the Middle East, and Africa (EMEA) are routed to data centers in. Western Europe. Emails from Australia and New Zealand are routed to data centers in Australia. Emails from the rest of the world are routed to data centers in the U.S.
The main service is hosted on Amazon Web Services (AWS) and the cloud sandbox is hosted on Trend Micro data centers certified by ISO 27001. Data centers in different regions operate independently and are not interconnected due to data privacy and sovereign considerations.
---