Trend Micro Worry-Free™ Business Security Standard

Complete user protection designed for small business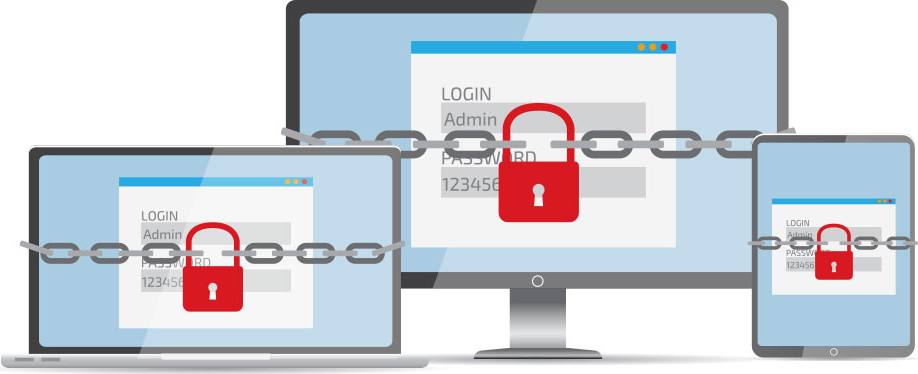 Trend Micro Products
Worry-Free™ Business Security Standard
Get a Quote!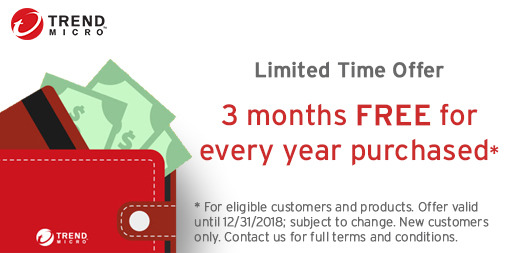 Overview:
Protects your users
Since users are your biggest weakness when it comes to security, it's important that you stop threats from getting to them. Worry-Free Standard protects email, web, and file sharing and filters URLs by blocking access to inappropriate websites.
Easy to use and manage
Worry-Free Standard is easy to install and simple to use. Since it's designed specifically for small businesses, it requires no IT expertise. Centralized visibility and control is provided so you can see what's going on in your business, and it provides complete protection with limited impact on performance.
Stays ahead of threats
Proactively stop threats before they reach your business with cloud-based protection from the Trend Micro™ Smart Protection Network™. Leveraging the latest global threat intelligence, your devices will have access to the latest threat information.
Benefits:
Trend Micro Worry-Free Standard protects against:
PCs
Macs
Laptops
Servers
Point-of-sale devices
USB drives
Advanced malware protection
On or off the corporate network your endpoints are protected against advanced malware and new variants as they emerge. Worry-Free Services reduces the burden of pattern file management and lowers performance impact. It identifies and blocks botnet and command-and-control communications (C&C), and secures your users and endpoint systems from accessing malicious web content, without relying on updates.
Ransomware protection
Defend against ransomware and its latest variants, including WannaCry, with behavior monitoring. It kills the malicious encryption process before ransomware can spread.
Web reputation blocks ransomware threats via the cloud using data from the Trend Micro™ Smart Protection Network™ and by blocking the ransomware activity.
Browser exploit prevention uses multiple analysis techniques to detect and block exploit code on web pages that try to download ransomware as you attempt to access them.
Comparison Chart:
Worry-free Business Security Solutions Comparison Chart
Worry-Free Services
Worry-Free Services Advanced
Worry-Free Standard
Worry-Free Advanced
Platforms
PCs, laptops, Windows servers
Mac clients (iMacs and MacBooks) and servers
Mobile Devices
Threat Protection and Web Security
Defends against viruses, spyware, and other malware
Advanced URL helps you control employee access to websites
Firewall blocks or allows certain types of network traffic
Behavior monitoring protects clients from unusual modification to OS or installed software
Web reputation prevents access to URLs that pose security risks
ENHANCED - Ransomware protection
Data Protection
Device control limits acces to USB drives and other attached devices to prevent data loss and block threats
Data loss prevention of email messages
Content filtering of email messages
Messaging Security and Antispam
Stops spam and email-based viruses before they reach mail servers for both on-premises Exchange servers and hosted email solutions
Via included Hosted Email Security
Threat protection and multi-layer antispam for Microsoft™ Exchange Servers
Advanced targeted attack and spear-phishing protection
Via included Hosted Email Security
Mobile Device Security and Management
App scanning and unsafe website blocking for Android devices
Mobile device management for Android and iOS devices
*
Centralized Management
Web Management Console
Hosted by Trend Micro-Accessed via internet
Hosted by Trend Micro-Accessed via internet
Via LAN or VPN
Via LAN or VPN
Management server location
Hosted by Trend Micro-server maintenance free
Hosted by Trend Micro-server maintenance free
On-Premises
On-Premises
Updates and patches pushed to users
Automatic
Automatic
Manual with complete control
Manual with complete control
Policy pushed to users
Via internet
Via internet
Via LAN or VPN
Via LAN or VPN
* For Microsoft Exchange ActiveSync users only. Also supports Blackberry and Windows Phone