Trend Micro Enterprise Security for Communication and Collaboration

Real-Time Protections for Real-Time Connections
Overview:
Real-time connections demand real-time security
Email, instant messaging, and collaboration systems connect your employees, partners, and customers. But in this real-time environment, attackers can spread malware, hijack systems, and steal data—in the blink of an eye. Email attacks have grown more deceptive, often luring victims to visit fraudulent sites or execute malicious code. With these instant connections, you need instant protection to keep your business safe.
Trend Micro™ Enterprise Security for Communication and Collaboration protects your Microsoft mail, IM, and collaboration servers, allowing you to connect and collaborate with confidence. Email and web threat protection are combined with leading content security technologies to stop threats in real time. This combined solution is powered by Trend Micro™ Smart Protection Network™ cloud-based security delivering global threat intelligence and faster performance. The suite locks down all avenues of attack to prevent data theft, infection, reputation damage, and compliance violations. And centralized management, optimized performance, and tight platform integration help reduce administration. With security for communication and collaboration, organizations can safely use these tools to build stronger business ties, innovation, productivity, and growth.
Deliver a safe environment for communication and collaboration stopping threats in real-time before they impact your network.
Communication
ScanMail™ Suite for Microsoft™ Exchange
Central Management
Trend Micro™ Control Manager™
Collaboration
PortalProtect™ for Microsoft™ SharePoint™
IM Security™ for Microsoft® Lync® and Office Communication Server
Protection Points
Microsoft Exchange Email Servers
Microsoft SharePoint Collaborative Systems
Instant Messaging with Microsoft Lync and Office Communication Servers
Threat and Data Protection
Compliance risks
Data loss
Inappropriate content
Phishing and targeted attacks
Spam and bots
Spyware and rootkits
Viruses and Trojan malware
Web threats
Features:
Advantages
Maximize Protection
Lower your risks with proactive threat protection
Stop spam, phishing, viruses, and unwanted email content
Block links to malicious websites and dangerous attachments in email and IM
Keep collaboration repositories free of malware and inappropriate content
Prevent loss, exchange, or posting of sensitive data and files
Block threats before they can enter your network with Trend Micro™ Smart Protection Network™ in-the-cloud threat intelligence for email, web, and file threat data
Support regulatory compliance with inbound/outbound content filtering and anti-malware
Lower Costs
Get the most out of your IT staff and infrastructure
Free network resources by dropping up to 85% of all incoming email with spam detection rated #1 by OpusOne
Cut email and SharePoint administration time in half, according to Osterman Research
Speed throughput—up to 92% faster than Microsoft according to 3A Principled Technologies Test Report
Deliver 206% better latency performance than Microsoft Forefront according to 4A Principled Technologies Test Report.
Deliver tight integration with Microsoft features with support for the latest Microsoft platforms
Centralize Management
Streamline administration by enforcing threat and data protection policies from a single console
Centralize policy management across Trend Micro security products
Coordinate polices across integrated Data Loss Prevention modules available for mail server security as well as gateway messaging and endpoint solutions
Gain enterprise-wide visibility into threat and data protection for effective security against targeted attacks and data loss
Trend Micro Enterprise Security for Communication and Collaboration
Protect your communications and collaborations systems in real time.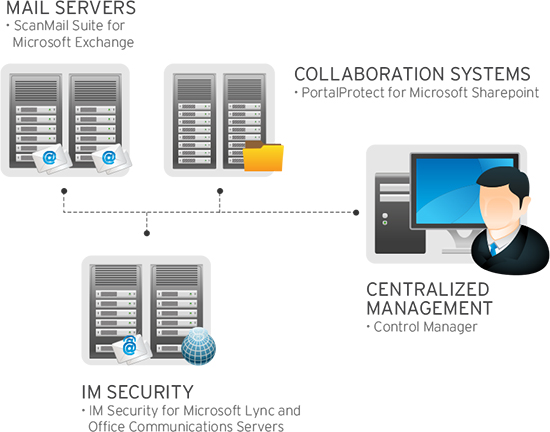 Enterprise Security For Communication & Collaboration
IM Security
ScanMail Suite
Portal Protect
IM Servers
Mail Servers
Collaborative Servers
Web Reputations
Email Reputation
Antivirus
Antispyware
Antispam
Antiphishing
Content Filtering & Data Leak Prevention
Central Management With Control Manager
As the first vendor to secure Microsoft Exchange and SharePoint, Trend Micro is uniquely suited to securing your Microsoft mail servers, collaborative systems, and IM environments with our Enterprise Security for Communication and Collaboration suite. This multilayered security protects your network, data, employees, partners, and customers.
Key Features
Mail Servers
ScanMail™ Suite for Microsoft® Exchange
Block messages containing links to malicious sites. Safeguard your mail server with leading antivirus, antispam, and antiphishing protection combined with innovative email and web reputation technologies.
Collaboration Systems
PortalProtect™ for Microsoft™ SharePoint™
Secure your collaborations with web reputation technology to block malicious links and content filtering to scan both the files and web components of SharePoint for malware and other threats. Go beyond standard antivirus protection by delivering scalable strong web threat protection and data loss prevention.
IM Security
IM Security™ for Microsoft® Lync® and Office Communication Servers
Protect your real-time IM communications by blocking links to malicious sites and applying leading antivirus and anti-spyware. IM Security also enables flexible content filtering to ensure appropriate IM use and to prevent data theft.
Centralized Management
Control Manager™
Centrally manage threat and data policies across multiple layers of your IT infrastructure, streamlining administration and providing more consistent policy enforcement.
Key Benefits
Protects your Microsoft email, collaboration, and IM systems
Stops viruses, worms, trojans, spyware, rootkits, and bot code before they can infect your endpoints
Blocks spam, phishing, malicious web pages, and inappropriate content for a safe work environment
Rates #1 in independent tests by Opus One, NSS Labs, Dennis Technology Labs, and AV-Test.org
Defends against data theft, data loss, infection, lost productivity, and compliance risk
Reduces management and overall costs
Add-ons:
Trend Micro Enterprise Security For Communication and Collaboration
Expand your protection with additional security from Trend Micro
Trend Micro Enterprise Security for Communication and Collaboration delivers proactive protection for Microsoft email, instant messaging, and SharePoint systems, protecting your business against malware, phishing, spam, malicious web pages, and inappropriate content. You can also easily extend this protection to further customize your messaging security with additional layers of protection such as hosted or gateway messaging security, and data privacy and email encryption.
Trend Micro Gateway Security Add-on Options
Target Protection
Add-on Security
Advantage
Gateway Messaging Security
InterScan Messaging Security
Protection for the email gateway that blocks spam and other email threats
Data Privacy and Email Encryption Module for InterScan Messaging Security
Email gateway data protection and email encryption
Hosted Messaging Security
Hosted Email Security
Continuously updated protection that stops spam and email-based malware in the cloud
Other Messaging Security
ScanMail Suite for Lotus Domino
Mail server security that protects against spam, malware, and other email threats on Lotus Domino
Data Loss Prevention Module for ScanMail for Microsoft Exchange
Data protection for email at the mail server
Email Encryption
Encryption for hosted, gateway, and endpoint email solutions
Support Services
Technical Account Management Services
Annual subscription that delivers proactive security services and support (Bronze, Silver, Gold, Diamond)
Project Consulting Services
Onsite, project-based professional services
System Requirements:
Multilayered Protection
Platform Coverage
Advantage
Email
ScanMail Suite for Microsoft Exchange
Software: Windows
Blocks spam, malware, and other email threats at the mail server
Collaborative Systems
PortalProtect for Microsoft SharePoint
Software: Windows
Secures SharePoint against web threats, malware, inappropriate content and other threats
Instant Messaging
IM Security for Microsoft Lync and Office Communication Servers
Software: Windows
Applies antivirus, antispyware, and content filtering, and blocks links to malicious websites to protect IM.
Central Management
Control Manager
Software: Windows
Centrally manages security