Trend Micro Hosted Email Security

Continuously updated protection to stop spam and viruses before they reach you
Trend Micro Products
Trend Micro Hosted Email Security
Hosted Email Security
Get a Quote!
Overview:
Stop spam. Save time. Sleep easy.
email is mission critical, but spam and email-based malware volume is growing exponentially; it's difficult to keep up. at the same time, other critical projects are pending— like Voice over iP, adding infrastructure capacity and securing your mobile workforce—but that doesn't mean you can afford to neglect email security maintenance. doing so will lead to a decline in your email security and spam-blocking effectiveness, which will inevitably lead to email delivery latency, mail server downtime, and even a major network outage.
Trend Micro Hosted Email Security is a no-maintenance-required solution that delivers continuously updated protection to stop spam and email-based malware before they reach your network. Hosted Email Security customers are covered by a contractually-binding Service Level Agreement (SLA). If we don't deliver, you're eligible for money back.1
Hosted Email Security protects Microsoft Exchange, Microsoft Office 365, Google Apps, and other hosted and on-premises email solutions. It protects more than 50,000 companies around the globe.
Protection Point
Threat Protection
Spam
Viruses
Spyware
Phishing
Targeted attacks
What It Can Do:
Stops spam
Helps you reclaim productivity and bandwidth
Rated #1 for stopping spam and phishing attacks, achieving the highest catch rates in independent competitive tests by Opus One
99%+ spam blocking with no more than .0003% false positives and zero emailbased viruses
Saves time
Helps free your time to implement critical business initiatives
No maintenance required since Trend Micro experts continuously implement all updates, patches, and hot fixes 24x7
Spam quarantine managed by end users— not IT staff
Gives you peace of mind
100% service availability with no more than one minute of mail delivery latency
Included policy-based encryption automatically enforces compliance requirements and protects confidential information
The Trend Micro™ Smart Protection Network™ cloud-based global threat intelligence rapidly identifies new threats and continuously improves protection against known threats
Included 24x7 technical support gives you extra peace of mind
Service Level Agreement Provisions
Hosted Email Security
Availability
Virus protection
Spam-blocking effectiveness
False positives
Support responsiveness
Email delivery latency
100% uptime
Zero email-based viruses
99% or better
No more than .0003%
Matches incident severity
No more than a one minute latency
How It Works: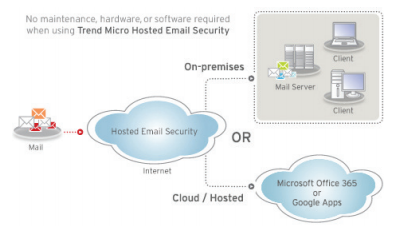 Targeted Attack Protection
Trend Micro Hosted Email Security provides protection against targeted invasions using enhanced social engineering attack protection, web reputation, and new detection engines. It also employs cloud-based threat analysis to block highly targeted email attacks by using exploit detection and sandboxing. Integration of these components enables you to defend against targeted attacks. This comprehensive targeted attack protection is included in Hosted Email Security at no extra charge.
Social Engineering Attack Protection
Detects spear-phishing emails by correlating email components, such as the header, body, and network routing using our new Social Engineering Attack Protection technology.
Enhanced Web Reputation
Enhanced technology from the Trend Micro Smart Protection Network scans URLs embedded in emails and blocks URLs leading to malicious sites.
Advanced Threat Scan Engine
Detects advanced malware in PDF, MS Office, and other documents using static and heuristic logic to detect and examine abnormalities in addition to known and zero-day exploits.
Cloud Sandbox
Provides automatic in-depth simulation and analysis of potentially malicious attachments including executables and common office documents in a secure sandbox environment hosted by Trend Micro.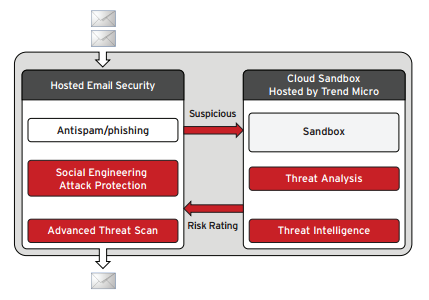 Documentation: