Trend Micro InterScan Messaging Security

Stop inbound threats, secure outbound data
Trend Micro Products
Trend Micro InterScan Messaging Security Suite
InterScan Messaging Security Suite
Get a Quote!
Overview:
Stop inbound threats. Secure outbound data.
More than 90 percent of all email is spam. With the rise of targeted spear phishing, even your savviest employees can mistakenly click on a malicious link and expose your enterprise to cybercrime.
Trend Micro™ Interscan™ Messaging Security provides the most comprehensive protection against both traditional and targeted attacks. Using the correlated intelligence from Trend Micro™ Smart Protection Network™ and optional sandbox execution analysis, it blocks spam, phishing and advanced persistent threats (APTs). The included hybrid SaaS deployment option combines a powerful gateway virtual appliance with a SaaS pre-filter that stops majority of threats and spam in the cloud—closer to their source. This hybrid solution delivers the best of both worlds: the privacy and control of an on-premise appliance with an in-the-cloud pre-filter for resource efficiency and proactive protection.
The Data Privacy and Encryption Module solves the toughest regulatory compliance and data protection challenges by securing outbound data. This optional module offers easy-to-use identity-based encryption and customizable data loss prevention (DLP) templates for quick deployment.
Mail Gateway Security
Protection Points
Messaging gateway
Inbound and outbound data
Internet cloud
Threat Protection
Targeted attacks
Compliance risks
Data loss
Inappropriate content
Malicious web links
Spear phishing
Spam and botnets
Spyware
Viruses
Features & Benefits:
Advantages
Protects organizations from APTs and other targeted attacks
Minimizes targeted attacks with ScanMail multiple protections
Performs execution analysis on your unique environment, and provides custom threat intelligence via Deep Discovery Advisor integration
Detects spear phishing emails with new Trend Micro Social Engineering Attack Protection
Blocks more malware, phishing, and spam with reputation technology
Drops up to 85 percent of all incoming email using email sender reputation to free network resources
Stops more spam with fewer false positives than other security solutions according to independent tests
Tags graymail messages such as bulk marketing newsletters for optional sorting
Checks for malicious links within the email to block phishing attacks via enhanced web reputation
Simplifies Data Protection and Encryption
Makes securing outbound email to anyone easier through identity-based email encryption
Eliminates pre-enrollment and certificate management of PKi encryption via dynamic key generation
Simplifies regulatory compliance and data loss prevention through customizable DLP templates
Reduces time management and speeds compliance audits using detailed reporting
Targeted attacks need a custom defense
Trend Micro messaging security products provide protection against targeted attacks with enhanced web reputation, a new detection engine, and a new threat analysis appliance that blocks highly targeted email attacks by using sandbox execution analysis. integration of these components provides a custom defense that enables you to detect, analyze, adapt, and respond to targeted attacks.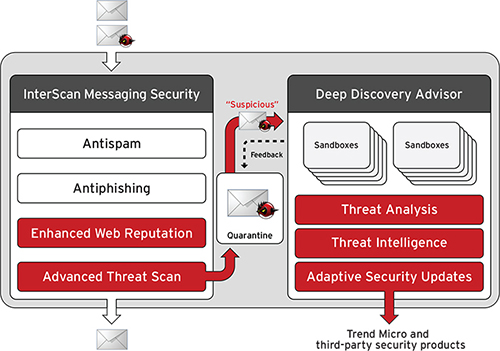 Interscan Messaging Security Components
InterScan Messaging Security has been enriched with built-in protections against targeted attacks.
Enhanced Web Reputation blocks emails with malicious URLs in the message body or in attachments. Its powered by the Trend Micro™ Smart Protection Network™ which correlates threat information with big data analytics and predictive technology
Advanced Rhreat Scan Engine detects advanced malware in Adobe PDF, MS Office, and other documents formats using static and heuristic logic to detect known and zero-day exploits. When integrated with Trend Micro™ Deep Discovery Advisor, it quarantines suspicious attachments for automatic sandbox execution analysis which occurs in-line without impacting the delivery of majority of messages
Deep Discovery Advisor Components (Additional Puchase)
Deep Discovery Advisor is a hardware appliance that provides sandboxing, deep threat analysis, and local security updates in a unified intelligence platform that is the heart of Trend Micro custom Defense.
Custom Threat Analysis provides automatic in-depth simulation analysis of potentially malicious attachments, including executables and common office documents in a secure sandbox environment. it allows customers to create and analyze multiple customized target images that precisely match their host environments
Custom Threat Intelligence analyzes logs of Trend Micro products and third-party solutions combined with Trend Micro threat intelligence to provide in-depth insights for risk-based incident assessment, containment and remediation
Adaptive Security Updates issues custom security updates on new malicious download sites and targeted attack command and control (c&c) locations found during sandbox analysis. custom updates enable adaptive protection and remediation by Trend Micro endpoint, data center, and web security products, and third-party security layers
Virtual Appliance Hybrid SaaS Deployment
Virtual appliance + cloud security: Trend Micro integrated hybrid SaaS gives you one unified console to manage everything—the cloud pre-filter service, virtual appliance content security, and the add-on Data Protection and Encryption Module.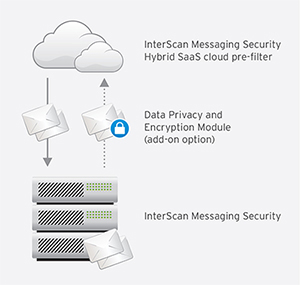 Key Features
Inbound in-the-cloud email filtering
Lowers impact at the email gateway by filtering email in the cloud
reduces datacenter footprint and lowers IT staff time
Allows you to deploy new capacity quickly where needed
Includes service Level Agreement that ensures email traffic uptime
Add-on Data Privacy and encryption Module (additional license required; available for virtual appliance or software appliance deployments)
Triggers automatic encryption, quarantine, or notification-based filtering policies
Speeds set up of DLP content filtering rules with customizable compliance templates
Reduces your reliance on user-driven encryption with an automated policy-driven gateway solution
Eliminates the complexity of key management with identity-based encryption
Enables compliance personnel to centrally manage DLP policies, and violation across other Trend Micro products from enpoint-to-gateway with Control Manager™
Real-time protection from evolving threats
Queries Web reputation database in real time to block emails containing malicious links
Checks Email reputation to block mail from spam sources and rogue "fast flux" service networks
Improves accuracy and responsiveness with in-the-cloud threat correlation
Identifies bulk marketing messages to allow separate dispositions for these emails
Detects and blocks botnet and targeted attack c&c communications
Single management console for customization and control
Streamlines management of cloud pre-filter, scanning of on-premise content, and DLP and encryption
Supports customizable policies and granular, rule-based filtering
Identifies bulk marketing messages to allow customers to manage with separate policies
Integrates quarantines, logs and reports for easy management, message tracking and visibility
Key Benefits
Saves resources by stopping spam in the cloud, outside your network
Protects against malicious links and in spear phishing attacks
Blocks targeted malware with sandbox analysis
Minimizes risk with real-time, predictive protection
Encrypts sensitive outbound email
Prevents data loss and compliance risks
Reduces management and overall costs
Furthers datacenter consolidation initiatives
System Requirements:
Virtual and Software Appliances
Server Platform Compatibility

virtual Appliances: vMware ESX/ESXi v3.5 and higher; Microsoft Hyper-v Windows 2008 SP1 or Windows 2008 r2
Software Appliances: for the latest certified by Trend Micro platforms, please go to www.trendmicro.com/go/certified

Minimum Hardware Requirements

Two Intel™ Xeon processor
4GB RAM
120GB of disk space

Recommended Hardware Requirements

Four Intel™ Xeon processor
8GB RAM
250GB of disk space
Software Deployment
Microsoft™ Windows™, Linux™

2G RAM of memory
80 GB hard disk spac: 500MB of disk space for installation and additional disk space needed for mail storage and database
Microsoft internet Explorer 6 SP1, 7, 8 or Firefox 3
LDAP Server Microsoft Active Directory 2000 or 2003, iBM Lotus Domino 6.0 or above, or Sun One LDAP

Microsoft Windows

Windows Server 2008 with SP 2.0 or above
Windows Server 2003 with SP 2.0 or above
Windows Server 2003 r2 with Sp 2.0 or above
Two intel Xeon 3gHz or higher
Microsoft Desktop Engine or Microsoft SQL Server 2000 or above, SQL Express 2005 or above

Linux

Red Hat™ Enterprise Linux 3, 4, or 5
PostgreSQL version 8.1.3 or above
Intel Dual Pentium iv 3 gHz
MTA Postfix 2.1 or above; Sendmail; Qmail
2GB swap space
Flexible Deployment
Virtual Appliance: virtualized deployments via Hypervisor technologies. Includes hybrid SaaS pre-filter and option to purchase Data Privacy and Encryption module.
Microsoft® Hyper-v™ virtual Appliance
VMware Ready Virtual Appliance: rigorously tested and validated by vMware, achieving vMware ready validation. Supports vMware ESX or ESXi v3.5 and vSphere
Software Appliance: bare metal installation with tuned, security-hardened OS. includes hybrid SaaS Pre-filter and option to purchase Data Privacy and Encryption module.
Certified by Trend Micro: Through extensive testing and validation, Trend Micro certifies platforms for compatibility with Trend Micro software appliance solutions. See certified server platforms
Software Solution: installs easily on standard hardware running Microsoft Windows or Linux OS.
InterScan Messaging Security Suite: includes the same world-class antispam, anti-malware, and content filtering in a standard software solution. SaaS pre-filter and Data Privacy and Encryption module are not available in this implementation. integration with Deep Discovery Advisor is planned in 2013
Documentation: